How to Avoid the X of Death for Your Videos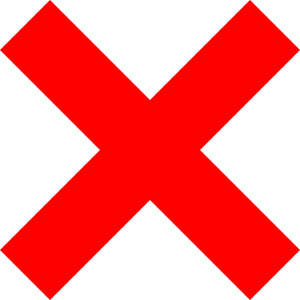 I have to be honest, I'm not that great at creating videos. Actually my real problem is that I am really camera shy.
Not good for me, when everybody these days seems to be promoting themselves with video and why not, they are quick to make and easy to do.
Video can be a really cost effective way to promote your company or product – have you checked out the price of a First Class Stamp lately!!
Whether your creating video sales letters, web TV shows or online product demonstrations, if you're not using video you're missing out.
However, there is a very common mistake people often make, even some of the most well known marketers make this mistake.
Maybe you've seen it too…
I've seen it time and time again, where you're invited to view an online video, only to see a blank area where the video should be or maybe even a message telling you your device doesn't support the video format the page is using.
This happens time and time again for iPad and iPhone users. So if you cannot view the page you 'X' off it quicker than grease lightening and never return again.
Frustration for the viewer and even more for you, as your hard work is being 'X' before it's even got started.
So what's the solution?
Well actually it's quite easy to fix and the answer is in the video format that you are using. By selecting the format that is the right format for the maximum amount of viewers, you pretty much solve the problem.
Just about every web video format, bar one, can cause issues with various computers and mobile devices. Example if you're using SWF, FLV, AVI, MOV or WMV (to name a few), there's a good chance many people will not be able to view your web video.
So, if you're not getting the type of response you think you should be getting to your video, then make sure your NOT making this deadly mistake!
I'm certain your goal will be to make a high quality video, with maximum capability, so don't break the golden rule before you start – make sure you're using the MP4 web video format.
What does that mean?
MP4 stands for MPEG-4 and is currently the best choice of web video format for playback and compatibility.
So many people have a vast variety of devices that they use, (iPad, smart phone, MacBook etc.) using an MP4 video will mean they will be able to see it in the way in which you intended. No other standard format can do this.
So if you're like me and scared of camera's and probably even more scared of the technology to go with them, here's a couple of simple tips to follow.
Start off slow, why not try an animated video with Animoto.com – they give a free version, which allows you to make a 30 second video or invest in a reasonable subscription for a year. It's a funky way to get you started.
This leads nicely into YouTube, this will also convert your web video into a suitable format for all viewers and you can start to build a list of subscribers on your own YouTube channel – brilliant as again it's free.
I have two other resources you can use to turn your masterpiece into an MP4 format.
Firstly, there is a free software tool called Handbrake, this allows you to convert your non-MP4 files to MP4 files for web use.
Go get it at www.handbrake.fr
The other amazing tool you can use to create videos is Camtasia. This allows you to quickly and easily create great-looking screen capture videos, Power Point videos and even on-camera videos. And the lovely people at Camtasia will even give you a 30 day free trial to see if you like it.
Personally, I think this is worth the full investment, but for now…
Go get it at www.camtasia.com
So, whether you're a total scaredy cat like me, or a seasoned web video maker, make sure you are using the MP4 format for all your (non YouTube) videos!