Recently JeaP were approached by Danny Fielder of Serious Fitness to logo up the boxing shorts of fighter Michael Lomax.
Lomax was due to fight Kell Brooke at the Manchester M.E.N arena on 18th July 2009 for the British Title Fight. Welterweight boxer, Michael Lomax has an illustrious career as an amateur boxer, with 15 wins, 2 draws & only one loss in 18 fights – quite impressive. So we had to do our best to impress the local lad with our garment decorating skills.
Serious Fitness were sponsoring Michael and had asked us to include their logo's and web addresses on the shorts, not much you might think, but when you only have one go to get it right, you have to get it right!
Here's what we got up to and how they looked.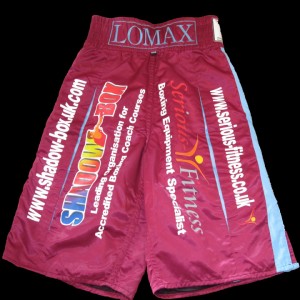 The shorts were a combination of 5 colour vinyl printing, full colour OBM printing & embroidered badges.
Sadly for Michael the fight was stopped in the fourth round, with Lomax receiving a nasty cut above his right eye. We wish Michael a speedy recovery from his cut and I'm sure Serious Fitness will be sponsoring him again in the near future. For more info on Serious Fitness visit their website at www.serious-fitness.co.uk