Fashion giants Boden came to us with a request to help produce some Christmas stockings… in July!
The press office for Boden, were organising a promotional dinner for some of their clients & buyers and wanted to give them a 'Goody Bag' packed with lots of little pressies, so they thought they would create Christmas in July.
Our brief was to embroider  the company logo onto some very bobbly woollen fabric. So we embarked on sending out samples of our embroidery, colour samples of green and gold thread and requesting a special pattern to be made so that we could place the embroidery exactly in the right place for the design to be cut from.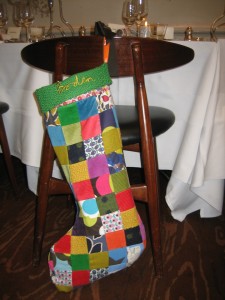 Success, the embroidery went like a dream and Lisa Webb from Boden commented "The embroidery was really lovely and everyone was delighted with their stockings."
So will they use us again…
"Many thanks for your help pushing this job through so quickly, it was a pleasure to work with you and I will definitely bear you in mind for any embroidery we might need in the future!"
Thanks Lisa it was nice working with you and all at Boden too.