The London Olympians American Football Team are one of JeaP's biggest clients.
Biggest in their size and strength that is!!
This January they asked us to help them out with their training kit and when you see the size of these chaps you just have to oblige.
Here is some info about them, they'd love you to join them if anyone is game…
In 1983 a group of men training at the Olympians Gym in Streatham, South London discovered a mutual interest in American Football, they began to meet and train on Streatham Common and one of Britain's founding teams, The London Olympians, were born.
The Olympians are the United Kingdom's most successful amateur American Football club. In over 25 years of British American Football the London Olympians have played in 18 finals winning 12 of them giving them the best record of any British team.
This year the Olympians will be competing in the British American Football League Division 2, competing with several of the UK's top teams for the right to call themselves national champions.
Last year the senior team saw three top players take advantage of great opportunities as a result of their experiences with the Olympians. Defensive Back Adeotatus Twumasi and Wide Receivers Folley Ogundele and Kenny Bello were selected to be members of the GB Lions National Team. The Lions will travel to Germany in 2010, to compete in the European Championships.
The Olympians pride themselves on welcoming anyone regardless of experience or age, and what better way to learn than to be taught by experienced, motivated and friendly coaches as well as getting additional support from some of the best players in the country. So whether you are looking to take your game to the next level, learn a new sport or just love the game then get in touch with London Olympians as we have opportunities for players in youth (14-19), senior (18+) , coaching and non-playing staff.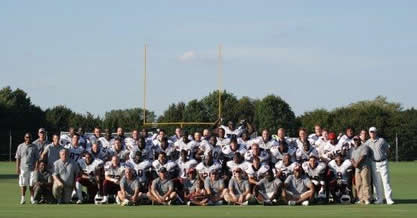 For more information check us out at: www.olympiansfootball.org