Sometimes we get some really nice people that come to JeaP and it's usually for just a small job.
One such team were the guys from Skillset. They supplied their own shirts and asked us to print a simple black logo on the front.
Michael Brandon the organiser kept his promised and sent in the team shot of the guys wearing the shirts – this is what he said and it made us laugh so much in the office that we just had to share it!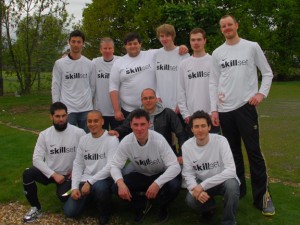 Just checking in (as promised) with the results of our football tournament.

We got into the quarter finals of the plate competition – so finished in the top 16 out of 52!

We're very proud of ourselves, and have plenty of injuries to show for it (note the blood on the shirt of the fella on the far right!).
We have a team photo attached. Although – it was taken at the end of the day, so we're a bit worse for wear.
The kits looked fantastic with the print – thanks so much!
Skillset are a charitable organisation, for more details on what they do
http://www.skillset.org  or Follow them on Twitter: @skillsetssc
Delivering skills for Creative and Digital Britain